About the Gallery
The ArtStarts Gallery is the only free, public gallery in Canada exclusively dedicated to young people's art.
Since the gallery opened in 2006, our exhibitions have celebrated the exciting artwork that emerges when students, educators and professional artists work together to deepen learning, creativity and community connections. Often featured are inspiring projects resulting from our
Artists in the Classroom
grants, which support opportunities for schools to work directly with professional artists to learn in and through the arts.
The ArtStarts Gallery is located on the unceded, ancestral, and traditional territory of the xʷməθkʷəy̓əm (Musqueam), Sḵwx̱wú7mesh (Squamish) and səl̓ilwətaɁɬ (Tsleil-Waututh) peoples. 
Attention: Our lift is currently out of order until further notice. Please read more information here.
Plan Your Visit
ArtStarts Gallery
808 Richards St, Vancouver, BC (
map
)
604-336-0626
All ages are welcome.
Admission is free. Donations are welcome.
Tuesdays-Saturdays 10am-4:30pm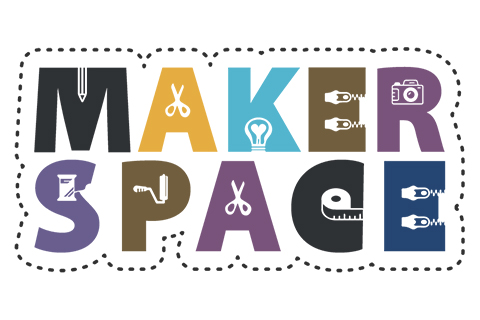 Maker Space at ArtStarts
Where can your young person safely sew, construct with cardboard, and prototype their big creation? At the ArtStarts Maker Space! Come experience design thinking by getting hands-on with materials. Don't worry about making mistakes, they don't exist at ArtStarts!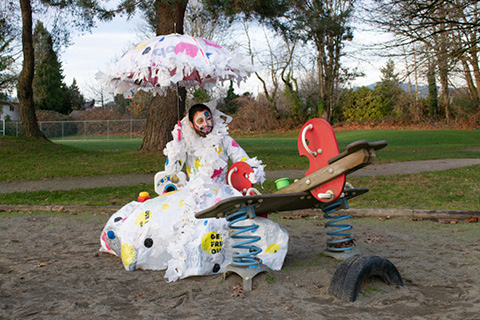 Skim in Burnaby
Join us on Saturday, January 18 from 12-4:30pm to celebrate this new exhibition!
Skim in Burnaby is a collection of photographs along with a striking hand-made garment by ArtStarts' emerging artist-in-residence, Romi Kim, who dressed in their drag character, Skim, and returned to places from their childhood in Burnaby. This outfit was created during their residency at ArtStarts from over 100 used plastic bags. Conscious of how "fast fashion" affects society and the environment, they worked within an upcycle and DIY approach to creating the garments and accessories presented. In this work, they return to familiar but now foreign places to reflect on how my childhood shaped them. Skim is brought out to visit public and residential locations in the daytime to disrupt the heteronormative. They identify as genderfluid, both a drag queen and drag king embodying high femininity through costuming and typical masculinity through facial hair. Romi brings Skim to perform and reflect on environment, memory, and place.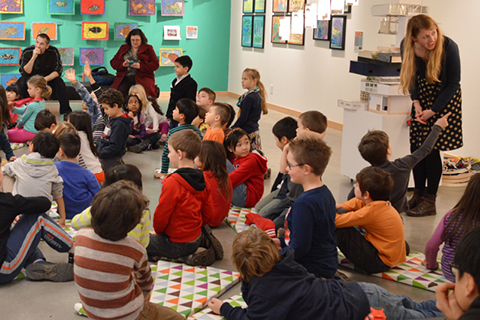 Gallery Tours
Group tours
of the current exhibition, with or without a hands-on activity component, can also be arranged for schools, daycares, camps, corporate teams or any interested group.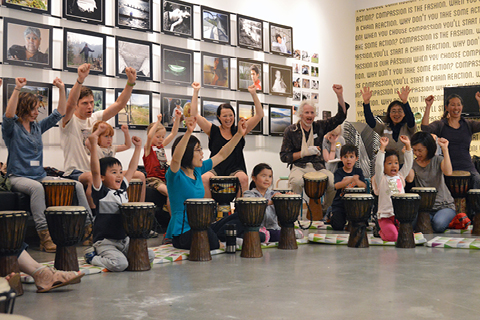 Events in the Gallery
ArtStarts on Saturdays is a
free monthly event series
where kids and families can enjoy the arts together. Led professional artists, these performances and workshops explore a wide range of cultures and artistic disciplines. Also join us for other
special events
throughout the year!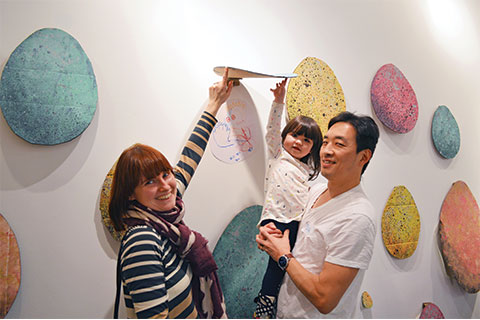 Gallery Mandate
Our Gallery mandate guides our exhibitions and programming, and highlights the kind of work we're excited to celebrate! We believe that a focus on young people in a gallery space can be transformative and that art is essential for every body. We achieve this mandate when students, educators and professional artists are working together to deepen learning, creativity and community connections.
Accessibility
Currently, only the main floor of ArtStarts is wheelchair-accessible. Our key operated lift is out of order until further notice. The front door does not have an automatic door opener - you may need to ask for support opening the door. The front desk person will be happy to assist you! The Cherniavsky Boardroom, ArtStarts Lab, and gender-neutral washrooms are located on the Mezzanine level and are only accessible by stairs.
Please note that at ArtStarts we strive to provide a scent-free environment. Please do not wear heavily scented perfumes or other smells to your workshop at ArtStarts. Please provide this information to all participants who will be attending.

Wheelchair access:

Front door: 3 feet width (single), 6 feet full width, 1/2 inch door sill, no automatic door opener
Our lift is currently out of order until further notice. We are working diligently to replace our lift as soon as possible and appreciate your patience.
Please read more information here.
Washroom info:
Two non-gendered washrooms, wheelchair button to open the green door washroom only
All wheelchair accessible washroom stalls have a handrail
Sanitary disposal available in all stalls
6 feet clearance in front of sinks
Non-scented soap, sharps disposal, and changing tables in washrooms